We've been growing Moringa for about five years. We have Moringa trees. We have Moringa seeds.
I once knocked over a completely random water jug but instead of water, out came a cloud of Moringa powder. It got everywhere.
I spent the next ten minutes sneezing. What I'm saying is that we've got a lot of Moringa, and that means we sometimes have to get creative with how we use it. And so: DIYs.
What ingredients will you need to make our favorite Moringa Oil Lotion Bars?
3.5 oz. (7 tbsps) white beeswax; grate beforehand or use pastilles
1 oz. (2 tbsps) Moringa oil
3 oz. (6 tbsps) sweet almond oil
18 drops of essential oil; I used peppermint
3.5 oz. (7 tbsps) mango butter
Silicone baking molds
In this series, we'll be posting a collection of recipes, DIYs, and projects, all using Moringa.
Doesn't matter whether you're looking for ways to integrate Moringa–and its many health properties–into your diet, your beauty regime, or any other part of your life; we've got you covered.
And so, here's part one: a DIY moringa oil lotion bar that'll leave your skin feeling pampered and moisturized for hours.
One last note: Moringa oil is pretty labor-intensive to press, so even if you grow Moringa yourself, you'll probably have to supplement your own pressed oil with store-bought.
There are a number of fantastic sources for Moringa oil out there; just be sure to do your research before buying!
More reading about Moringa and it's incredible benefits can be found at the article below:
Moringa Oil Lotion Bars
Ingredients
3.5 oz. (7 tbsps) white beeswax; grate beforehand or use pastilles

1 oz. (2 tbsps) Moringa oil

3 oz. (6 tbsps) sweet almond oil

18 drops of essential oil; I used peppermint

3.5 oz. (7 tbsps) mango butter

Silicone baking molds
Time needed: 45 minutes.
Makes 6
Combine beeswax, Moringa oil, and sweet almond oil

Grab yourself a medium-sized pot, and scoop in the white beeswax, the Moringa oil, and the sweet almond oil. Mix for a minute to combine.

Stir over medium-low heat until thoroughly melted

Turn the stovetop on medium-low; the temperature should be warm enough to slowly melt the beeswax over a period of about 5 minutes, but should not be so hot that it boils. Place your pot on the stovetop, stirring continuously until the beeswax and oil mixture has melted.

Add 18-30 drops of an essential oil of your choice

You can get creative in this step. Pick whichever essential oils you like best. Mix them up! Try weird combinations! I just did peppermint, because I had a dream about Christmas last night and got really sad that it's only May. Be more adventurous than I am: try patchouli! Eucalyptus! Ylang Ylang! Whatever you want; it's your lotion.

Pour into a silicone mold

Remove your melted lotion from the heat. Remember, the beeswax and butter should be entirely melted. If you pour the liquid into the mold with chunks still inside, your lotion bars will still be perfectly moisturizing, but they're also not going to look that great. Once removed from the heat, carefully pour equal amounts into each of the molds.

Freeze for 30 minutes

Warning: your silicone molds are going to be wobbly. This is because they're silicone. No matter how carefully you hold the mold, you'll probably still get a little spillage. That's entirely fine. To reduce spilling, carefully slide a baking sheet under your mold; this will keep it from wobbling. Now, just slide it into a freezer for half an hour (or into a refrigerator for an hour), and then wait.

Remove from freezer and enjoy!

Pop each lotion bar out of the silicone mold. When not in use, store in a cool, dry place. This particular lotion bar has a shelf-life of one year. Use it, and enjoy!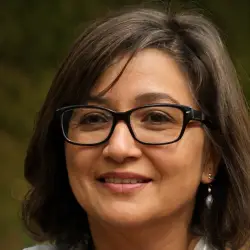 Latest posts by Shelby Kaplan
(see all)