Moringa typically starts getting ready to harvest in the fall. In the northern hemisphere, you might see the first Moringa pods start to ripen in August and the later ones in October, but typically, you'll probably get most of your harvest in September.
The question is how? How do you know your Moringa seeds are ready to harvest, and how do you harvest them when they are?

How to harvest moringa seeds and pods
Moringa seeds are ready to harvest after the pod is dry and has browned. A Moringa seed harvest typically involves twisting the pods from the trees and then splitting the pods in half, and then scraping and harvesting the seeds within both of the halves.



How do I know if my Moringa seeds are ready to harvest?
The easiest way to tell if your Moringa pods are ready for harvest is when your Moringa pods are dry and brown.
When Moringa pods first start to grow, they emerge as long, thin pods. At this stage, when they're young and about as thin as green beans, you can actually eat the pods–but you'll lose out on the seeds.
Over the next month or two, those pods will start to grow and thicken, until you can see them bulging with dozens of seeds. Soon enough, those pods will be a rich green color, and each might grow to be anywhere between as thin as a finger or as thick as a flute. They'll look delicious, and the pods can indeed still be eaten–here's one Moringa drumstick curry recipe I adore from Roti n Rice. But if you want to harvest the seeds, resist the temptation, and leave the pods on the tree.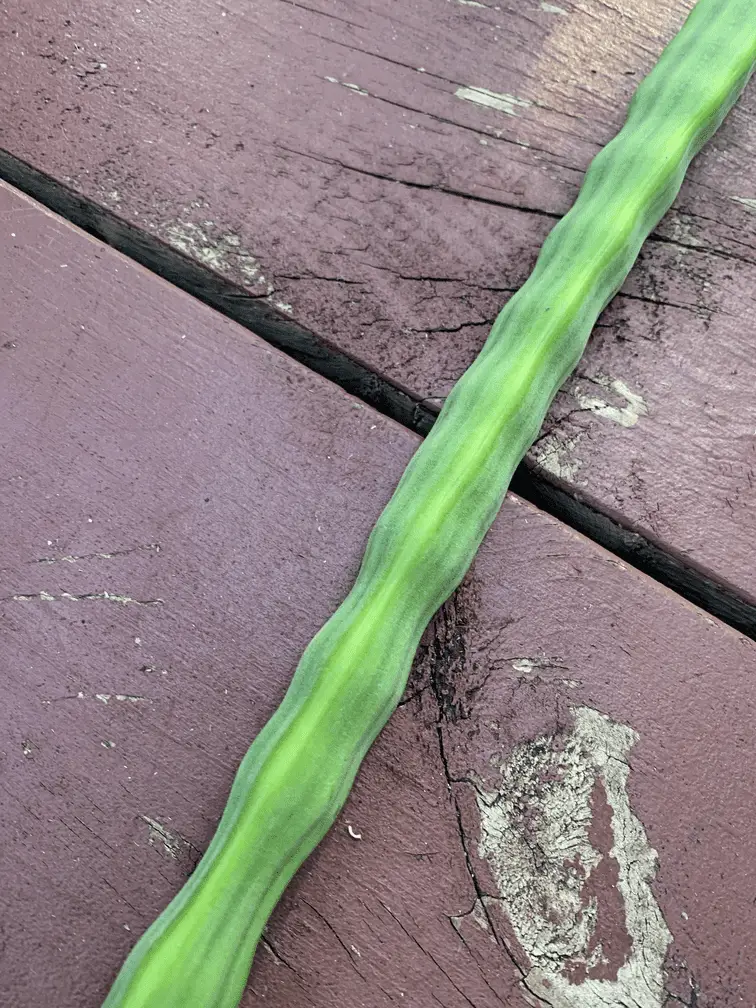 Over the next few weeks, you'll see the Moringa pods start to brown. For a while, they'll be a nice mix of green and brown, and you may want to start pulling the pods from the tree. Resist! They're still not ready.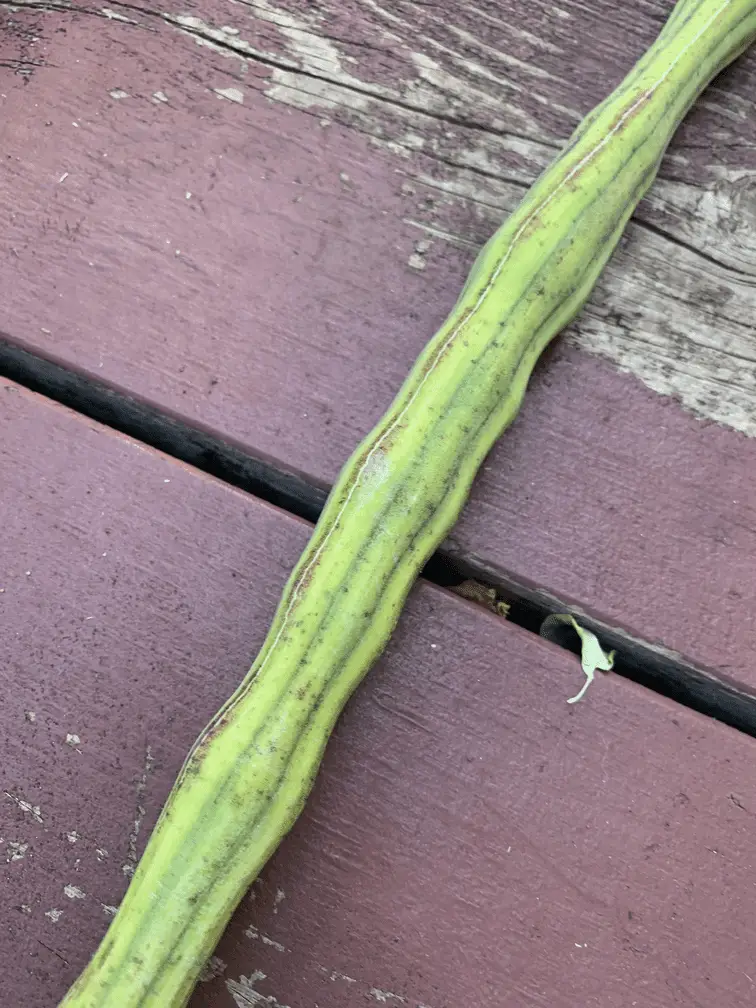 Wait until the pods have turned a pale, brown/tan color. The husk will look dry. You may even notice a few drumsticks start to come apart independently, dropping a few seeds to the ground. Then, and only then, will they be ready to harvest.



How to harvest the Moringa pods from the tree
Some fruits and vegetables take a crazy amount of effort to harvest (I'm looking at you, artichokes). Luckily, removing Moringa pods from the Moringa trees is about as easy as snapping off one of the branches: so easy that sometimes gravity does it by itself.
That makes the process of harvesting the pods simple but can also result in a huge mess if you're not careful.
To harvest the pods, grab the pod by the top, about 1 inch below the stem. Note: Try not to grab onto the middle or the bottom of the pod–doing so will increase the likelihood that the pod will snap open and spill seeds everywhere.
If a pod is too high up to reach easily, try to bend the branch or trunk gently towards you until it comes low enough that you can grab the top of the pod.
Once you've grabbed the Moringa pod near the stem, gently twist it until it snaps off. The gif below will illustrate how easily the pod should snap off.
If the Moringa pod doesn't snap easily off by twisting it near the stem, that pod may not yet be ready to harvest.



How to remove Moringa seeds from the pods
Removing seeds from dry Moringa pods is just as simple as harvesting the pods from the tree.
By the time Moringa seeds are ready to harvest, the pod should be brown, dry, and easily split open. In fact, you'll occasionally notice that some of the Moringa pods may have started to split all on their own.
First, make sure that you're sitting at a table, or that you have somewhere to store falling seeds.
Cracking open Moringa pods will often result in a number of seeds falling everywhere, so unless you want to bend over to grab them from the floor, make sure that the seeds have somewhere to fall on.
Once you've removed the pod from the tree, grab the end of the pod between your fingers; I find that grabbing the stem end tends to work best.
Then squeeze the pod firmly between your fingers. A crack in the seam should emerge. Grab both sides of the Moringa pod along the seam and then gently pull it apart. Be prepared to catch the falling seeds!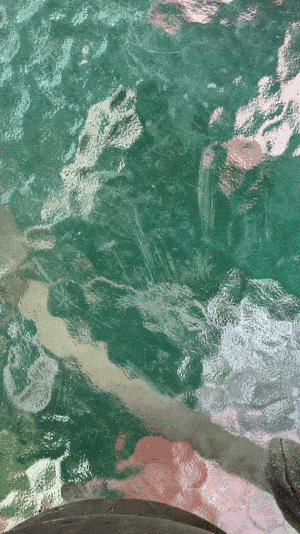 Once you've collected your Moringa seeds, store them in a cool, dry location until they're ready to plant in spring.
And that's really all there is to it!



Moringa Seed Pods
Moringa seed pods are taken right from the Moringa tree.
Inside, they have many seeds that can be eaten, just like peas.
Cut them open, get the seeds out, and you're already halfway there!
Remember, these have to be cooked first.
Later on, once they've dried, they can in fact be eaten! 
Tip: Eating too many of these seeds will make you use the bathroom. Stick to one or two a day to eat the seeds!
The seeds are loaded with many great vitamins, and once dried and peeled can be ground to create some awesome powders.
Many people use these powders globally on their skin and body for aches and pains (Combine it with Coconut Oil).
In many parts of the world, it's common to see the Moringa Seed Pods chopped up and added to different curries and soups. However, the smaller Moringa Seed Pods work better for this.



When to Harvest Moringa Leaves
Harvesting Moringa leaves is much different than harvesting the Moringa seed pods.
Moringa Oleifera is unique in that this moringa tree grows vertically and is not very tree bushy.
However, when growing moringa, we can "trick" the Moringa Oleifera tree into growing horizontally (bushy) instead of vertically. This will allow us to harvest more moringa leaves in the long run.
To do this, I assume you already know how to plant moringa seeds and possibly even have some moringa seedlings.
Many people assume that only mature trees that produce flowers should have their leaves harvested into moringa powder. This is wrong!
To know when to harvest Moringa leaves, wait until your Moringa Oleifera tree is about 70 centimeters tall, then snip the main branch (not the side branches) down to about 40 or 30 centimeters. Repeat this process until your Moringa Oleifera tree is growing horizontally.
This will indicate to your plant to grow horizontally, and not vertically.
This will create a bushier Moringa Oleifiera that will provide much more dried leaf powder in the long run.



Learn more about Moringa
For more information about Moringa, check out some of our helpful articles. Here are just a few: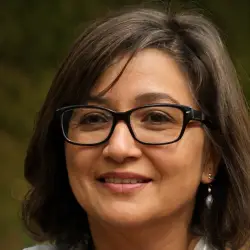 Latest posts by Shelby Kaplan
(see all)